Jewelry Trends for Miss Pisces
Ever wondered why that piece of jewelry looked beautiful in the shelf and not on you? Well, it's all in the stars. Metallic tones may look good on people with one zodiac sign, while pearls may complement the other. But it's the month of March babies, and we're here to talk about the dreamer in the zodiac signs - Pisces! The Pisces woman has a sense of mystery to her, she is poetic and spiritual too. No wonder when it comes to
fashion jewelry
, she loves to customize and create a truly exquisite work of art.   So, if you are the experimental Pisces woman, then
Voylla Fashion jewelry
has the perfect pieces that will suit your adventure seeking persona!
Jazzy Oxidized Statement Bawara Necklace
Click To Buy
Going out for a weekend getaway? This necklace comes to your rescue. Pair it up with a monochromatic salwar kameez or a boho dress, and you're ready to go! If there is anyone who can pull off this fashion jewelry, we believe it's you!
Bottle Green Flower Tribal Bracelet
Click To Buy
  Sophistication defines you. This beautiful piece of fashionable jewelry will add that to your outfit perfectly. Adorn this tribal bracelet with just about anything and you are sure to become a trendsetter!
Varna Shades Of Blue Enameled Oxidized Dangler Earrings
Click To Buy
Blaze up your outfit with these elegantly crafted
oxidized dangler earrings
 Want your personality to reflect your creative thoughts? Team them up with any ethnic tunic or kurta and trust them to take your style-game a notch higher!  
Enameled Peacock Oxidized Pinjar Necklace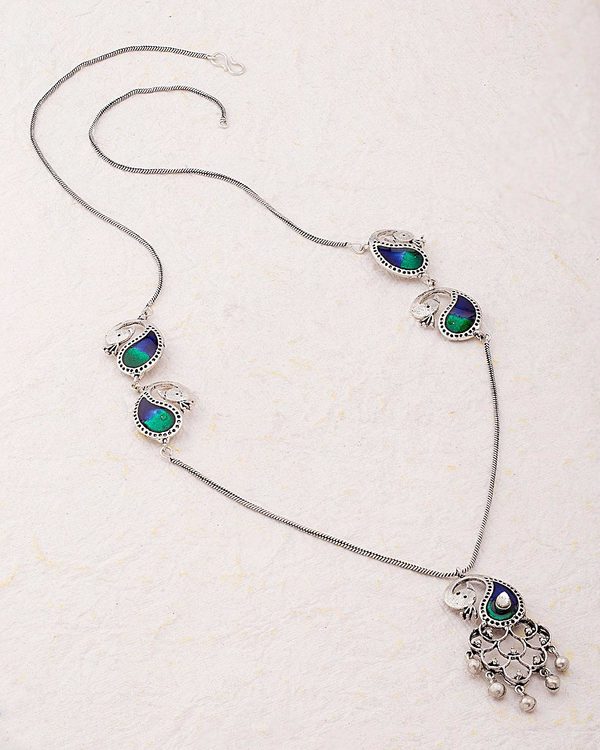 Click To Buy
This exquisitely crafted necklace is the result of perfect craftsmanship. The colour combination derived from scintillating peacock feathers will only add elegance and panache to any ensemble you adorn.  
Trinket Rings Silver Oxidized Floral Statement Ring
Click To Buy
Since your aura resonates with silver and anything floral, this ring is perfect to add the oomph factor to your look. Show the world your impeccable taste in jewelry with this breathtakingly beautiful ring by clubbing it with a solid colour kurta and leggings.     Loved them all? Go grab them before they're gone!