What Does Your Jewellery Say About You?
Your jewellery preference says a lot about your personality. Not just that, it also tells about the person you are! Ever wondered what your accessories tell about you to people you meet? 
Let's take a look!
Miss Coy 
The girls who like simple pendants and little earrings are usually confident and not particular about the way they look. They are generally introverts but once you actually get imitation jewellery online to know them, you know the real confident girl that she is. They generally have sentimental value attached to the jewellery they wear.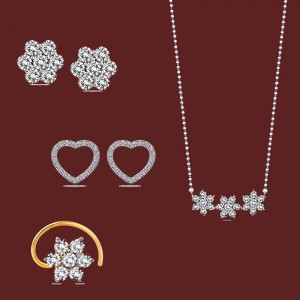 Miss Narcissist 
People who love to wear personalized jewellery, having initials of their names, etc absolutely love themselves. They are self-obsessed and freedom to speech is their birthright and they have no qualms in expressing their feelings. They always stand for their loved ones, no matter what!
Miss Chic
These are a bunch of polished and elegant people and they love pearls the most. Think of Maharani Gayatri Devi of Jaipur! They are family-oriented and a no-nonsense person. They have an acquired taste in fashion and usually stay low-key. Their poise and calm conduct make them stand out even in a crowded room.
Miss Matching
These people are extremely organized and take responsibility for their actions. They are great counselors and people come up to them for deep meanings of life. They dress up in monochromes and wear similar colors from head-to-toe. You will always see them wearing matching neckpiece and earrings. (Check out the Amazing "Match-the-Dress" app by Voylla!)
Miss Vintage
These people have a strong inclination towards history, culture, architecture, and languages. They are slightly reserved but can talk endlessly about different cultures and literature. They have no tolerance towards fake people and value little things in life.
Miss Bold & Beautiful
These are the people who can are extremely confident in their own skin and do not need any validation. They have a refined taste for fashion and carry themselves with élan. They are immensely focused and dedicated towards their work and accomplish everything with enthusiasm and zeal. They change their look from drab to fab in just five minutes! They don't take hours to get ready for a party. In fact, they just don a head-turning accessory and are all set to go!
Miss Rebel
These people are eccentric and edgy even when it comes to fashion. These are the people who usually love chains and spikes. They love going for trekking and some are even tom-boyish. They dare to live their own dreams and know no boundaries.
So which one are you?  which type of jewellery you like? Did you prefer to buy online jewellery? Leave your comments below and let us know! 
#HappyShopping